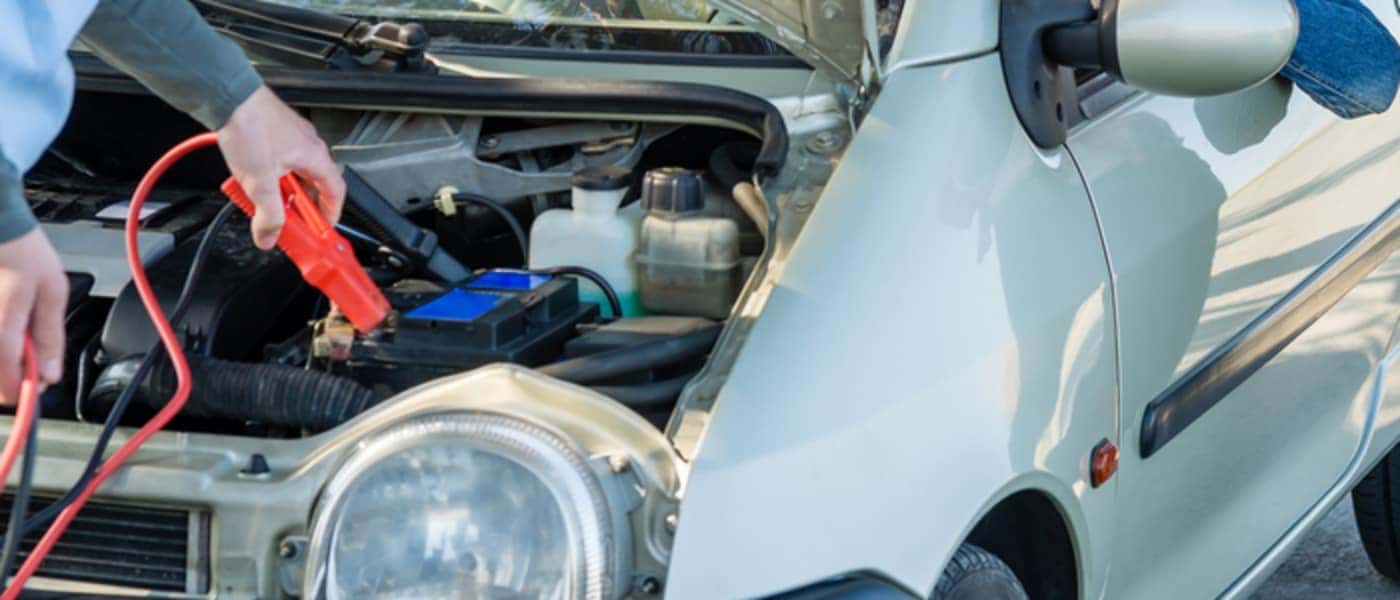 How to Jump-Start My Car
If your car engine is giving you trouble and doesn't want to turn over, you can always try a jump-start. Sometimes it's a hassle to wait for a jump-start car service company, so why not do it yourself with the help of a friend or neighbor? Keep reading and you won't ever have to ask, "How to jump-start my car?" ever again! Tenneson Nissanis at your service and brings you this helpful guide on how to properly jump-start a car. If you need a new battery, make a service appointment with our service team in Tifton/
How to Properly Jump Start a Car
You need jumper cables and a friend or neighbor with a working vehicle. Follow these steps to jump-start a car:
Try to park the cars so they are facing each other and close enough to each other so that the jumper cables can reach both engines. Then, turn off your cars and set the parking brakes.
Open up your hoods and find the batteries. Remember, the batteries may be hidden under a plastic hood. If you can't find yours, read your owner's manual.
Ensure that your battery terminals are clean and free of any corrosion.
Fasten the red clamp of the jumper cable to the positive post. The positive terminal will be marked with a + sign.
Fasten the other red clamp to the positive terminal of the functioning car battery.
Connect one of the black clamps to the negative post, marked with a – symbol, on the working battery.
Connect the last black clamp to an unpainted metal surface on the frame of your vehicle.
Once everything is connected, and the clamps are solid, ask the other person to start their vehicle. Then, attempt to start your vehicle.
Once your car engine starts, release the jumper cables in reverse order. Do not touch the jumper cable clamps or allow them to touch one other.
Let your engine run for at least 10 minutes so that your weakened battery doesn't die again.
More Car Battery Tips and Tricks
Now that you know how to properly jump-start a car, keep reading for more car battery tips. If, after trying to jump-start your car, it still won't start, you likely need a new car battery. It could also be a more severe issue. Here are some methods to figure it out so you can get back out on Tifton streets.
If you only hear a clicking sound when you try to start your car, the starter might be broken. Schedule service with the service center at Tenneson Nissan.
If all the other electrical systems in your vehicle are still working, such as the stereo and dome light, but your engine won't start, it might be a faulty ignition switch, blown fuse, or broken starter. Contact the Tenneson Nissan service center for a diagnosis of the problem.
Always allow your car to run for a while after a jump start so your car battery will fully recharge after being drained.
Tenneson Nissan is Available for All Your Auto Service Needs
If you need a new car battery, oil change, or tire rotation for your Albany adventures, Tenneson Nissan is at your service! We are located just a short distance away from Douglas. Remember to check our service specials to see if you can save some money before you contact us. We're here for you!