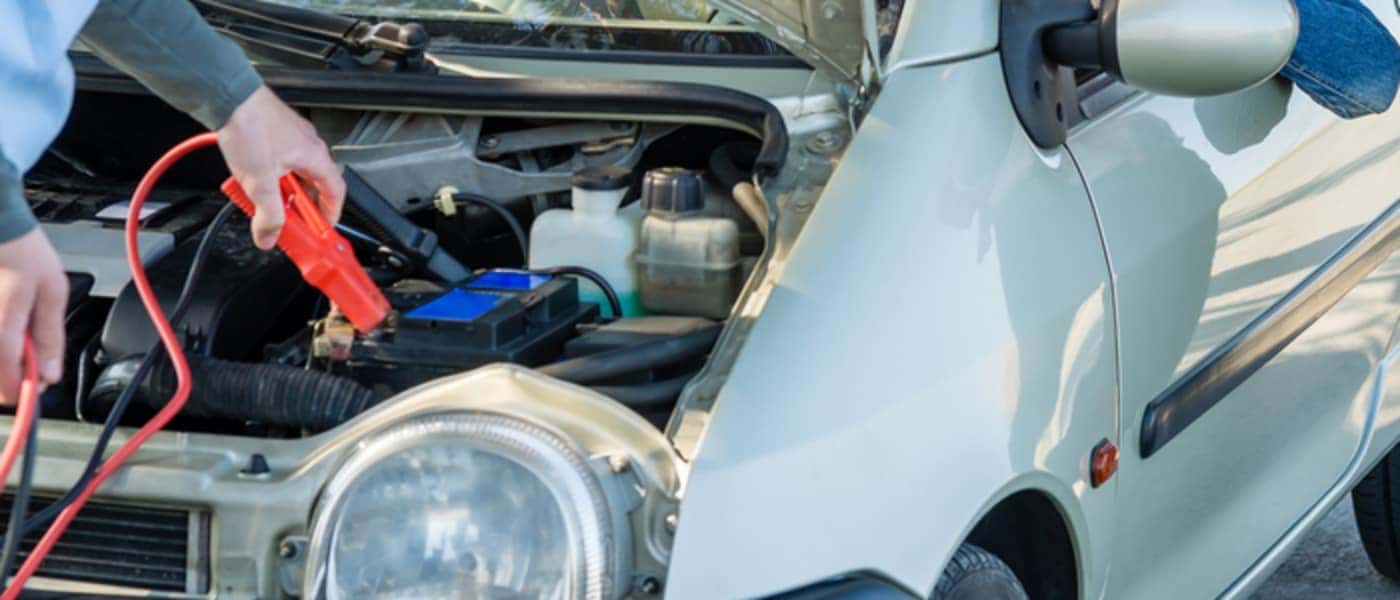 If you're stuck with a dead battery in Tifton, you want to get back on the road and on with your day as quickly as possible. If you're still under your Nissan warranty plan, chances are you can call a jump-start car service from Nissan Roadside Assistance. Open 24 hours a day, 365 days a year, you can simply call (800) – 225 – 2476 to reach Nissan Roadside Assistance.
If you're no longer under warranty or if you don't want to wait for a jump-start car service, you can easily learn how to jump-start a car with the Tenneson Nissan service team. Simply follow our instructions below to see the proper way to jump-start a car and get back on Tifton roads!
How to Properly Jump-Start a Car
If your car won't start, you'll need to borrow the car of a friend or family member and get a set of jumper cables. If you don't have jumper cables, most Albany auto stores, big box stores, and even some larger gas stations will have them for sale at relatively low prices.
With another vehicle and a pair of jumper cables in hand, follow the steps below to learn how to jump-start a car:
Have the car with the good battery park facing the other vehicle, then make sure that the vehicle is turned off. Check to make sure both parking brakes are engaged.
Open both hoods and find the batteries. You may need to remove a plastic hood to expose the battery terminals.
Identify the positive and negative terminals. Make sure they're clean and free of any corrosion.
Connect the red clamp to the positive post on the dead battery.
Uncoiling the battery cable, hook the other red clamp to the positive terminal of the battery with the charge.
Connect the black clamp to the negative post on the good battery.
For the final clamp, connect it to an unpainted metal surface on your car's frame.
Once everything is hooked up securely, start the engine of the vehicle with the good battery first, then the one with the dead battery.
Once the dead vehicle has been jump-started, carefully remove the jumper cables in the reverse order that they were placed on, then shut off the car that was used to help jump-start the dead car.
Keep the engine running on the restarted vehicle for at least 10 minutes to ensure that the weak battery doesn't die again right away. Consult your owner's manual for more info on recommended times.
My Car Won't Jump-Start
If your Nissan won't jump-start even after you allowed it to run for at least 10 minutes, you could have a faulty battery or a bad alternator. Read below to troubleshoot the potential problems your vehicle could have:
If your vehicle only makes a clicking sound after you try to start it, you probably have a faulty starter. To resolve this, you'll need to bring your vehicle to a Douglas-area Nissan service center.
If the electrical systems in your Nissan (lights, radio, chargers, etc) turn on but the engine fails to turn over, it could be the battery, starter, ignition switch, or a blown fuse. A certified Nissan technician will need to diagnose the exact cause for you.
If you allowed your vehicle to charge for at least 10 minutes after it was jump-started, and your engine dies again the next time you try to start it, you could have a faulty battery or a bad alternator.
To determine if you have a bad battery, get inside your vehicle and turn the lights on without turning the vehicle on. If your headlights are dim or fading, then your battery needs to be replaced. If your lights are bright, turn on your vehicle and watch the lights again. If your lights glow and dim as your vehicle runs, your alternator will need to be replaced.
Come to Tenneson Nissan for Vehicle Service
Whether you need a new Nissan battery or a new alternator, the service team at Tenneson Nissan can help! Schedule an appointment online to have your Nissan inspected and maintained by our certified service technicians, then browse our service specials for savings on your vehicle maintenance or a new battery. Stop by today, we look forward to keeping your Nissan running for mile after mile on Tifton roads!