20 Year / 200,000 Mile Warranty
Any new vehicle purchased with us includes our 20 Year / 200,000 mile warranty program. Standard on all new, untitled vehicles 0-5,000 miles sold at our dealership.
The Tenneson Nissan warranty is wide ranging and well-backed, covering all the most important parts of the engine and transmission for your Nissan. The Tenneson Nissan warranty for new vehicles is truly immense, with a 20 year 200,000 mile warranty covering the engine, transmission, transaxle, transfer case, and drive axle.
Tenneson Nissan stands behind the new vehicles it sells to Tifton and Tifton drivers like few other dealerships nationwide, with only a $100 deductible with each repair visit, and whatever costs are incurred on non-engine/transmission related parts. It should be noted that all the most expensive parts are completely covered by this extremely long term limited warranty. Albany drivers who buy a vehicle from Tenneson Nissan can also expect further free service for their Nissan: free oil changes for life. Contact us for more information!
Fortress Certified Pre-Owned Warranty Coverage and Benefits
As for certified pre-owned vehicles, the coverage remains incredibly extensive. Tifton and Albany area drivers can expect a 7 year/125,000 mile warranty that includes 24 hour roadside assistance and rental car coverage up to $35 per day for five days per covered breakdown. Even for a certified pre-owned warranty, the list of covered vehicle components is extensive. These are just the engine parts covered:
All Internal Lubricated Parts
Cylinder Heads
Flywheel
Intake and exhaust manifolds
Water pump and pulley
Fuel pump
Thermostat housing
Valve covers
Timing and side covers
Engine mounts
Harmonic balancer
Seals and gaskets
That's far from everything that Tenneson Nissan's certified pre-owned warranty covers, however. The 7 year/125,000 mile warranty also covers all of these critical transmission and drive axle parts, including the four wheel drive system of a vehicle, if applicable.
All Internal Lubricated Parts including CV joints
Torque Converter
Pressure Regulator Valve & Switches
Solonoids
Clutch, Drums, Pistons, Steel Plates
Speedometer drive gear assembly
Bell housing
Transmission mounts
Seals & gaskets
Differential and axle housings
axles/half-shafts and wheel bearings
Seals & gaskets
Customer Responsibility
To support these incredible warranties, Tenneson Nissan only has a few requirements for its customers:
Have vehicle serviced as recommended by the manufacturer-provided Owner's Manual at the prescribed mileage intervals
Keep copies of all repair orders for all maintenance services performed
Ensure both the Oil and Temperature warning lights are fully operational
Customers can have the vehicle serviced at any licensed shop, and only factory scheduled maintenance is required.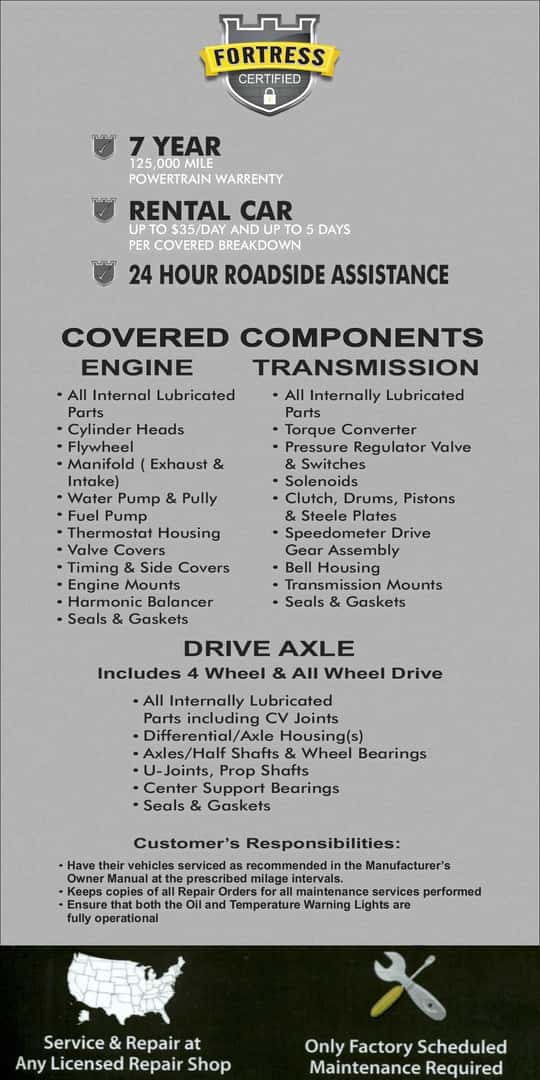 Explore the Fortress Warranty at Tenneson Nissan
For drivers in the Tifton area, and indeed many of those well beyond, the 20 year 200,000 mile warranty for new vehicles is like nothing else on offer, and that's before one factors in the free oil changes for life. The 7 year/125,000 mile warranty is incredible on its own for certified pre-owned vehicles. We also offer online services to help plan for your next vehicle, such as a payment calculator and trade-in evaluator. If you have any questions at all be sure to contact our finance department.